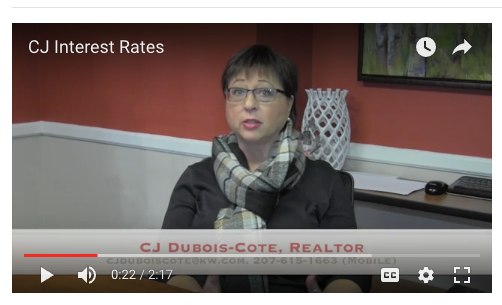 CJ's Team has published a very short video to break down what recent news about interest rates can mean to your pocketbook, especially if you're considering buying a new home. In this video, CJ Dubois-Cote translates the latest financial news into very easy-to-understand terms, with a practical example that uses simple, specific numbers. If you have two minutes, take a look.
As she explains, now is the time to lock in a good interest rate, since the astronomically low interest rates that have been in play are likely to erode in the coming months. All the experts agree that historically low rates to which we have become accustomed are on their way out, although there's still time for you to take action now and lock in major savings. Typical of the widespread expert analysis is Lawrence Yun's opinion, who wrote in Forbes.com earlier this month, "…the bonus period is over and will not likely return. All the while, given the continuing housing shortage conditions, home prices are set to rise further."
Each member of CJ's Team has the expertise to advise you on interest rates and what they mean to you, and how to get started on the process of buying or selling a home. As CJ explains here, there are many practical and fairly easy steps to get going, and of course we're always available for consultation. We're happy to help.