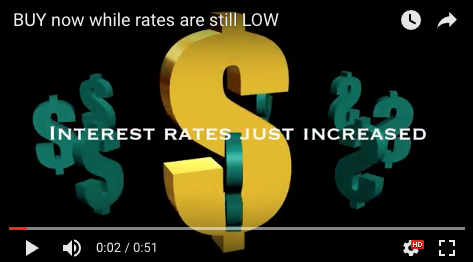 New home buyers, want to keep a substantial pile of money in your pocket in the next 30 years, rather than forking it over to the bank? Well the news came in last week, just as predicted. The Federal Reserve increased its benchmark interest rate by a quarter of a percentage point, and signaled that rates will increase again later this year, at least twice.
That means mortgage rates could go up on that waterfront property you've been looking at, or that house for sale, or the condominium you've had your eye on, or that beach house. According to CNBC, "Mortgage applications to purchase a home, which are less sensitive to weekly rate moves, rose 2 percent for the week and are 6 percent higher than the same week a year ago." That's a big spike. As CJ notes in this video, we may never see mortgage rates this low again.
Keep this in mind: before mortgage rates go up another 0.25%, you'll have on average $10,000 more in purchasing power. You'll lose that when rates go up. Why not call a Maine realtor today, and KEEP that money? If you act before rates go up another 0.5%, you'll have on average $20,000 more in purchasing power, plus your monthly payment will be about $100 less than what it would be at the higher rate!
That's real money. Check out the chart below, assembled by National Public Radio from data provided by the Federal Reserve Board. The cost of borrowing to buy your dream home has never been as low in the history of the United States. On the other hand, it's clear that in future months, the cost of money is going up. So remember that an experienced real estate expert can put wind in your sails very quickly. If you'd like to get going today and keep a significant amount of money in your pocket, click here to arrange a free professional consultation with CJ's Team. Whether you live in Falmouth, Cape Elizabeth, Saco or Biddeford, getting started is a lot easier than you may think!