If you'd like to live or have a vacation home on the coast of Maine, keep in mind that you need to be aware of some key information, and therefore you should keep contact information for the CJ Dubois-Cote Team in your files. When you're ready to consider either new construction or buying an existing beach house or coastal property, you want to be sure that you're working with a real estate agent who is an expert.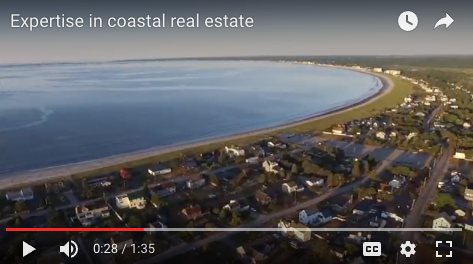 Here's why. The "rocky coast of Maine" is a phrase known world-wide, but not quite as famous are the spectacular beaches and saltwater estuaries along the state's not-so-rocky coast, in York County and Cumberland County, home to amazing stretches of sandy beaches. Many would argue that this is the best part of Maine. So unique is this geography that the Unites States Fish and Wildlife Service and the State of Maine teamed up in 1966 to establish the Rachel Carson National Wildlife Refuge.
Located along 50 miles of coastline in York and Cumberland counties, the refuge consists of eleven divisions between Kittery and Cape Elizabeth. It will contain approximately 14,600 acres when land acquisition by the Refuge is complete. The proximity of the refuge to the coast and its location between the eastern deciduous forest and the boreal forest creates a composition of plants and animals not found elsewhere in Maine. Major habitat types present on the refuge include forested upland, barrier beach/dune, coastal meadows, tidal salt marsh, and the distinctive stretches of rocky coast.
Because of these protections, the natural beauty of the area makes it especially attractive to home buyers, both for permanent residents and those looking for a second home.
Naturally, there are rules in place to make sure these permanently protected areas stay healthy and undeveloped. Realtor Mark Harold, a key member of CJ's Team, can guide you through all the rules and regulations you need to know about in the shoreland zone, including required setbacks from the water, regulations for septic systems, restrictions on further development, and so forth. Mark has many years of experience in this specialty, and in particular, he has excellent relationships with the key town and city officials from Falmouth all the way down to York.
You'll see in this video introduction that Mark is easygoing and professional. More important, he knows ALL the little things you need to know about owing a home in this particularly gorgeous part of the world. E-mail the CJ Dubois-Cote Team, or reach us by phone at 207-615-1663.